Hired for Aptitude—Fired for Attitude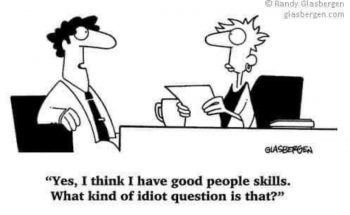 Never forget: You are the gatekeeper and, as such, when choosing who you bring into your company, it's important to:
Assess candidates – behaviors & skills.

Ask the RIGHT interview questions. (Behavioral assessment feedback helps with this.)

Listen carefully to the answers.

Gather versus give information.

Follow the 80/20 rule: Listen 80% of the time and speak only 20% to discover if candidate matches your job requirements.
The following lessons from the book "Good to Great" by Jim Collins are helpful to keep in mind when hiring:
Low costs-per-hire, time-to-fill, and staffing efficiency are not the hallmarks of great staffing. Of the great talent principles Collins uncovers, he leads with, "When in doubt, don't hire. Keep looking. No company can grow revenues consistently faster than its ability to get enough of the right people to implement that growth and still become a great company."
The best people are worth digging for.


One of the good-to-great CEOs highlighted the fact that he spent 80% of his time finding the right people and ensuring they were in the best roles for them.

Not all turnover is bad.


The early days of nearly every good-to-great transformation was characterized by high initial turnover, which indicated that the wrong people were getting off the bus before it left the station.




According to Collins, "People either stayed on the bus for a long time, or got off in a hurry. In other words, the good-to-great companies did not churn more, they churned better."

The right person is not always the person you expect.


I can't count how many times I've run into this. That's why I always suggest that, when possible, assess two to five top candidates for comparison. This way you can examine the pros and cons of each.

Whether or not someone is the right person "has more to do with character traits and innate capabilities than with specific knowledge, background, and skills," according to Collins. He highlights several examples in which star employees with no previous experience in a specific area were assigned to critical opportunities — and ran circles around the people who had much more "relevant" experience.
The best people often don't fit into a "you-must-have-10-years-of-widget-making-experience" box. It's easy to let the next Bill Gates slip past you and be gone before you realize it.
It takes a focused effort to ensure that your best-fit people don't slip through the cracks — regardless of where they've come from.