Starting Out on the Right Foot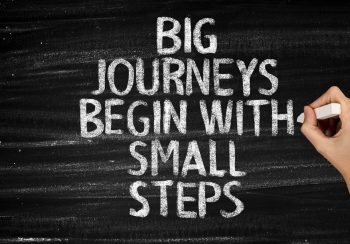 Starting something new can be exciting but also daunting. Whether you're beginning a business, changing jobs/careers, launching a creative project, or just embarking on a new way of doing something, getting started is often the most challenging part.
Here are some tips to help you get off on the right foot and ensure that your inaugural steps lead you to success.
Have Clear Goals in Mind Before You Start
Stephen Covey, author of "7 Habits of Highly Effective People," made known the concept of "starting with the end in mind." And, truly, one of the most important things to do before beginning any project is to have your clear goals in mind.
What do you want your end result to look like?

What outcomes are most important?

Having clear objectives will help guide your actions and focus your efforts in the right direction from the start.
Take time to think deeply about what you hope to achieve before you begin executing your plans.
Set Up a Support System
Having a strong support system around you will be invaluable when starting something new. Whether friends, family, or colleagues are the ones reaching out, make sure that someone has your back along this journey. Take the time to help them understand what you're trying to achieve so they can provide valuable insight and feedback as needed.
Depending on your goals, finding a mentor, role model, or someone who has already achieved success in similar endeavors can be helpful—their experience and advice can save you time, money, and effort during the process.
Do Your Research
When you're starting something new, it's always wise to do your research. Investing the time in exploring all facets of the project upfront will ensure that your efforts are effective from the start. This can include:
Reading up on industry trends

Talking with people in related fields

Studying established companies in similar sectors

Gathering as much information as possible before taking action!
This helps inform your decisions throughout the process and ensures that your goals remain realistic yet ambitious enough for growth. 
Getting started requires planning and preparation for success to happen. Setting well-defined goals at the outset helps keep you focused on tangible objectives, and having a strong support system provides invaluable guidance along the way. Finally, doing research allows you to gain insights into industry trends while accessing valuable resources, which could lead to success more quickly than otherwise expected!
With these tips in mind, it's now time to begin!!