Helping Employees Understand the Four Stages of Behavior Change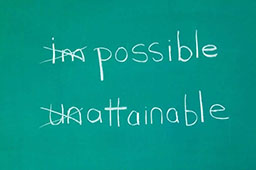 Helping employees adopt a mindset for positive behavioral change can be a challenge. Positive and negative behaviors affect an individual's productivity and communications, team functions, and interactions with clients.
Performance-based behavioral assessments are helpful tools to identify the strengths and weaknesses of a participant. These assessments are different from many "personality" profiles that are available today.
Unfortunately, many styles type personality profiles categorize employees into stereotypical groups that are not conducive to their own or the organization's success.
Often, people will say: "Well, I'm just an XYZ…" as if that gives them a pass on some annoying behavior. Rather than giving someone a pass, employees should adopt the mindset: "That was my low control score showing up. In my next interaction with "Mary," I'm going to pause and listen before responding." Suddenly, a new conscious behavioral pattern emerges.
Awareness is the beginning of wisdom when it comes to behavioral change.
The following are the 4 stages of behavior change:
Unconscious – Incompetent: "I am unaware that I don't do this well." Otherwise known as the "blind spot."
Conscious – Incompetent: "I know that I don't do this well." This is where self-awareness of the need to change ignites.
Conscious – Competent: "I do this well only when I think about it." This stage signals a transition from awareness to action by modeling others who do this well.
Unconscious – Competent: "I do this well all the time." Competency entails a permanent behavior change — or high performance by reflex.
There is never a reason for anyone to feel inferior during this process. Employees should know that they are not alone — we all have strengths and areas that need improvement.
Here's what you can do:
Help your employees identify current behaviors using behavioral assessments, 360 surveys, and feedback/coaching.

Take note of already successful behavioral areas; these are an asset. Let your employees know what they do well!

Help them take note of behaviors that are holding them back – areas they need to modify to achieve success both personally and professionally.

Identify and clarify three actionable steps for capitalizing on areas of strength.

Identify and clarify three actionable steps for modifying areas needing improvement.
Using quality behavioral assessments as part of your employee development processes involves paying attention to detail, showing respect, and using common sense.
To get started with behavioral assessments, please contact Lindsay Colitses via email: lindsay.colitses@windridgeconsulting.com or via phone: 206-533-9700.